DKGB-12150-12V150AH SEALED MAINTANANCE FREE GEL BATTERY SOLAR BATTERY
Product Detail
Product Tags
1. Charging efficiency: The usage of imported low resistance raw materials and advanced process help make theinternal resistance smaller and the acceptance ability of small current charging stronger.
2. High and low temperature tolerance: Wide temperature range (lead-acid:-25-50 ℃, and gel:-35-60 ℃), suitablefor indoor and outdoor use in varies environments.
3. Long cycle-life: The design life of lead acid and gel series reach to more than 15 and 18 years respectively, forthe arid is corrosion- resistant. And electrolvte is without risk of stratification by using multiple rare-earth alloy ofindependent intellectual property rights, nanoscale fumed silica imported from Germany as base materials, andelectrolyte of nanometer colloid all by independent research and development.
4. Environment-friendly: Cadmium (Cd), which is poisonous and not easy to recycle, does not exist. Acid leakageof gel electrolvte will not happen. The battery operates in safety and environmental protection.
5. Recovery performance: The adoption of special alloys and lead paste formulations make a low self-dischargerate, good deep discharge tolerance, and strong recover capability.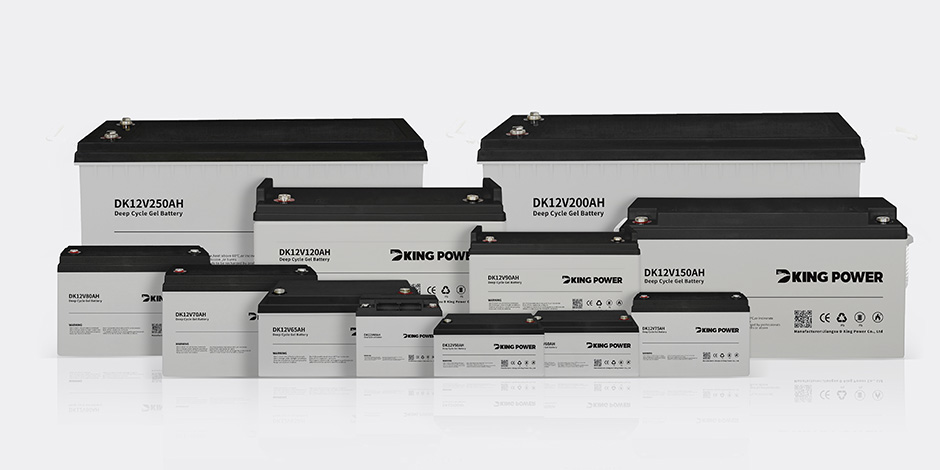 | | | | | |
| --- | --- | --- | --- | --- |
| Model | Voltage | Actual capacity | N.W. | L*W*H*Total hight |
| DKGB-1240 | 12v | 40ah | 11.5kg | 195*164*173mm |
| DKGB-1250 | 12v | 50ah | 14.5kg | 227*137*204mm |
| DKGB-1260 | 12v | 60ah | 18.5kg | 326*171*167mm |
| DKGB-1265 | 12v | 65ah | 19kg | 326*171*167mm |
| DKGB-1270 | 12v | 70ah | 22.5kg | 330*171*215mm |
| DKGB-1280 | 12v | 80ah | 24.5kg | 330*171*215mm |
| DKGB-1290 | 12v | 90ah | 28.5kg | 405*173*231mm |
| DKGB-12100 | 12v | 100ah | 30kg | 405*173*231mm |
| DKGB-12120 | 12v | 120ah | 32kgkg | 405*173*231mm |
| DKGB-12150 | 12v | 150ah | 40.1kg | 482*171*240mm |
| DKGB-12200 | 12v | 200ah | 55.5kg | 525*240*219mm |
| DKGB-12250 | 12v | 250ah | 64.1kg | 525*268*220mm |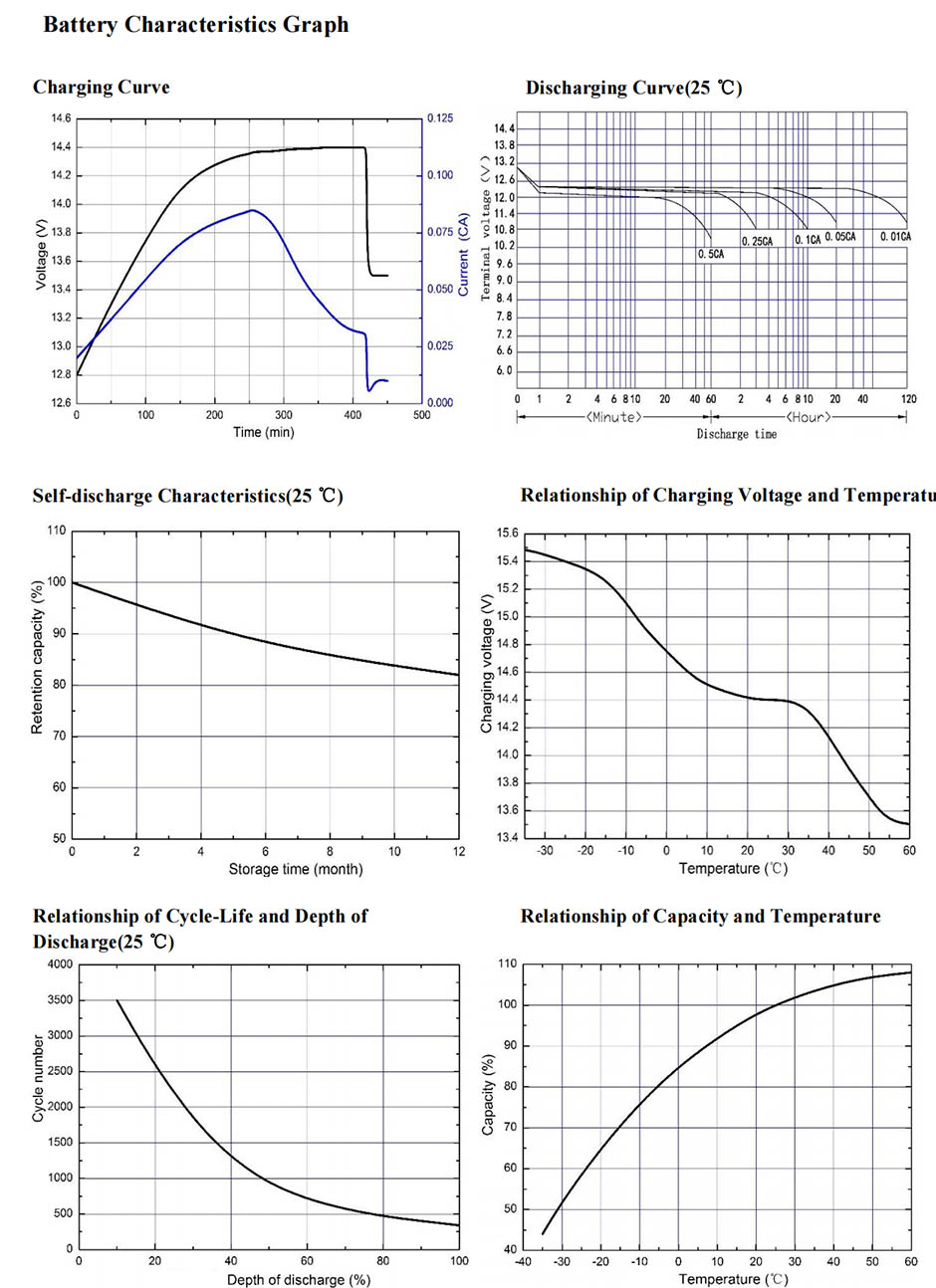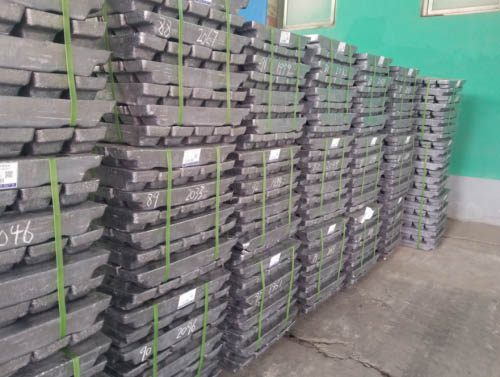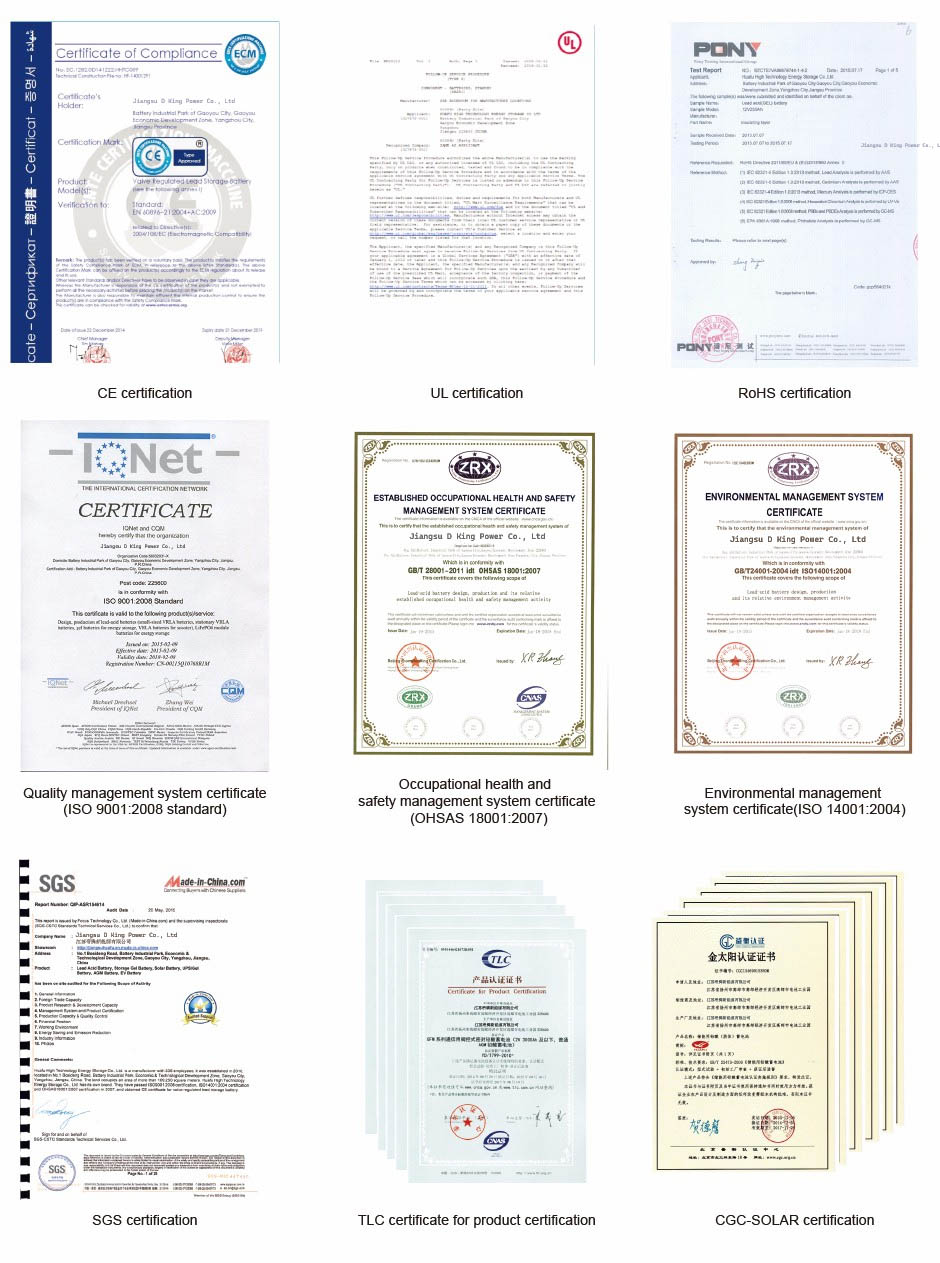 About gel battery for solar energy
1. Good deep circulation capacity, with good overcharge and overdischarge capacity.
2. Long service life, special process design and gel electrolyte ensure the long service life of such batteries.
3. It is applicable to different environmental requirements.gelal solar batteries are required to be used normally under different conditions such as high altitude, high temperature and low temperature.
The electrolyte of the battery containsgelal substance of fumed silica, which is in gel state, and does not flow, leak, or acid layering. The battery tank and cover are sealed with ABS materials, so there is no danger of leakage during use and transportation, and they are safe and reliable.
When thegel electrolyte is injected, it is in a dilute sol state, and the excess electrolyte can fill all spaces in the battery. Under the condition of high temperature and overcharge, the battery is not easy to dry up. The gel battery has large thermal capacity, good heat dissipation, and is not easy to cause thermal runaway. The battery can work in a relatively harsh environment.
The electrode grid structure is a radial structure, which is conducive to improving the utilization rate of living materials. The alloy is lead calcium tin aluminum alloy. The positive plate has good corrosion resistance. The negative plate has high hydrogen evolution potential. The lead paste formula is unique. The battery has excellent recovery ability after deep discharge and recharging. It has good cycle durability, sufficient capacity and long service life. The imported PVC-SiO2 separator for gel battery is used as the separator, which has high porosity, low resistance and small internal resistance of the battery.
The pole terminal is a tinned copper terminal structure, which is conducive to the discharge of large current of the battery and the reliability of the connection between batteries. The pole is sealed by fusion welding and resin sealing agent for the second time, with high sealing reliability. The closed connection cord of the terminal can effectively prevent short circuit and electric shock caused by accidents.
---
---